11 noviembre 2017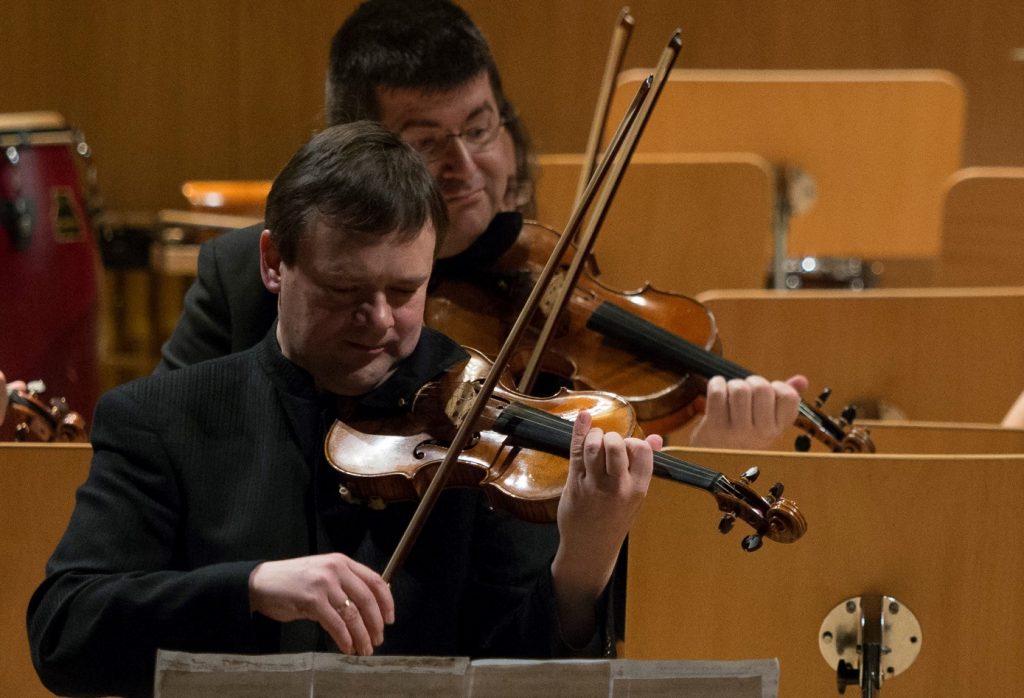 It is more than likely that Frank Peter Zimmermann had heard of sub-prime loans in February of 2015.  Who had not already heard the official version, a few times, of how the economic crisis all began?  What was possibly harder for this German violinist to understand was that because of this speculative bubble, he would be left without his Lady Inchiquin, the Stradivarius that he had been playing for the past thirteen years.
The nightmare came true exactly two years ago.  Zimmermann was about to turn 50 years old and was giving a concert in New York, but he could not make an agreement to buy his dear violin. Five days before his show in Avery Fisher Hall, he had to leave it behind and return it to its true owner:  a troubled German savings bank that had loaned it to him for years. Zimmermann had to ask to borrow an instrument at the last moment. The German soloist did not disappoint in Jean Sibelius' concerto for orchestra and violin. The irony is that the musical score had been kept closed in a box for years because of the wishes of the composer. At that time, his Lady Inchiquin was resting in a safe at West LB in Düsseldorf waiting to be sold.
West LB was not an ordinary German Bank.  In its day, it was the third biggest bank in the country, controlled by North Rhine-Westphalia, but all of this disappeared when the economic crisis fully reached the German banks.  When the European Commission analyzed the insides of the business, it gave the final word:  Angela Merkel's government had to liquidate it.  And to absorb the losses, the German leader started her own "bad bank". (Surely this story sounds familiar to some…)
In fact, Zimmermann had the bad luck that the bank that owned his Lady Inchiquin was the first to be liquidated in Germany.  Indeed, the Germans also had dead weight on their balance sheets.  They had very bad bets. Michael Lewis explains this very well in his book "The Big Short".
-"WHO'S on the other side, who's the idiot?"
-"Düsseldorf. Stupid Germans. They take rating agencies seriously. They play by the rules."
West LB was one of these stupid Germans. In fact, they were involved in all of the bad businesses related to the stock market. While their "remains" were negotiated and possible buyers were explored, Zimmermann continued with his performances changing his violin every month, looking for a sound that he liked as much as his Stradivarius. "There is no other violin … that has such wonderful color and such sweetness," he declared of his instrument before losing it.
In October of 2015, the German violinist was in Shangai for a concert and before the rehersal, a man approached him. "I have a violin I want you to try," he said. Zimmermann didn't have time: he waited for the orchestra at the rehersal. But the man insisted and finally convinced him. They went to the dressing room and took out the violin from the case. He only needed a couple of notes to recognize it. No, it wasn't his Lady Inchiquin (that's what everyone thinks when they get to this part of the story), but another Stradivarius, General Dupont (They usually give the instrument the name of its most famous owner).
Zimmermann had grown up with the sound of this violin: it belonged to another virtuoso: the Belgian, Arthur Grumiaux.  The man with the violin was Mr. Yu, a wealthy collector.  Thanks in part to globalization, he became the first Chinese owner of a Stradivarius.  Realize that he paid more than eleven million dollars at auction.  That same day, Zimmerman played General Dupont in Shangai and more imporantly, he reached a loan agreement :
"I played three notes and I must say, I was really moved," Zimmermann told The Strad. 'The violin had the voice of Grumiaux that I remembered from listening to his recordings as a child. Of course, my "Lady Inchiquin" was still the voice I wanted back – if you have loved Renata Tebaldi for many years you might not want to change for Callas. But the Grumiaux was somehow in my blood – or in my ears – as this was an instrument I grew up with."
But when he returned to his home country, Germans were not very happy about the management of the crisis. Another bank in ruins had sold an Andy Warhol painting to the highest bidder. People didn't like the idea that works of art that belonged to public banks ended up hidden in the living rooms of multimillionaire collectors.  Even if it were to get back some of the public money that was used to save them.
So, in the summer of 2016, the governing board of North Rhine Westphalia came to an agreement with what was left of West LB bank: they would buy their whole collection of art, including the Stadivarius Lady Inchiquin, so that it would remain in the region and could be played by the famous local musician. The funny thing about this story is that when they did the inventory of the objects for sale, they realized that some Picasso prints were missing.  They never found out who or how they disappeared from the safe.
Things didn't go as fast as expected. When I first met Zimmermann in February of 2017, he hadn't recovered his dear violin yet. He hoped it was a matter of time. "It was like my voice", he told me. "I lost my voice".
We saw each other again one more time in October of 2017. This time he played with Lady Inchiquin. "I got it back. I got it back", he said smiling after the concert.  You could really tell watching him play that night.
——————————————————————————————————-
This article was published on the blog on the 22th of February. Then, on the 6th of March it was the back cover of El País.
Thanks to Dan Thomsen for translating!